Overview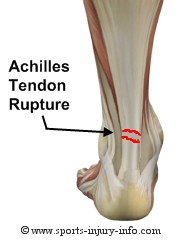 Achilles tendinitis (tendonitis) or Achilles tendon inflammation occurs when the Achilles tendon becomes inflamed, as a result, of the Achilles tendon being put under too much strain. The Achilles tendon joins the calf muscles to the heel bone, and is found at the back of a person's lower leg. It is the largest tendon in the body and can endure great force, but is still susceptible to injury. Achilles tendinitis is usually the result of strenuous, high impact exercise, such as running. If ignored, Achilles tendinitis can lead to the tendon tearing or rupturing, and therefore it is important to seek the necessary treatment. Sometimes, treatment can be as simple as getting rest or changing an exercise routine. However, in more severe cases, surgery may be required.
Causes
When you place a large amount of stress on your Achilles tendon too quickly, it can become inflamed from tiny tears that occur during the activity. Achilles tendonitis is often a result of overtraining, or doing too much too soon. Excessive hill running can contribute to it. Flattening of the arch of your foot can place you at increased risk of developing Achilles tendonitis because of the extra stress placed on your Achilles tendon when walking or running.
Symptoms
If you have Achilles tendinitis or Achilles enthesopathy, you are likely to experience the following symptoms. Pain. You may notice aching, burning, or tearing pains at the back of your heel or above the ankle. The pain can range from mild to very severe and disabling. It is most noticeable in the following circumstances. After resting. Many people report that pain increases when they first get out of bed in the morning or after sitting for a period of time. After exercise. Pain may increase if you exercise or stand for a period of time. A lump. In some cases, a tender lump can develop at the site of the injured tendon (tendinosis). Bone spurs. When the injury occurs at the point where the tendon attaches to the foot, a bone spur may develop on the heel.
Diagnosis
The diagnosis is made via discussion with your doctor and physical examination. Typically, imaging studies are not needed to make the diagnosis. However, in some cases, an ultrasound is useful in looking for evidence of degenerative changes in the tendon and to rule out tendon rupture. An MRI can be used for similar purposes, as well. Your physician will determine whether or not further studies are necessary.
Nonsurgical Treatment
If you have ongoing pain around your Achilles tendon, or the pain is severe, book an appointment with your family physician and ask for a referral to a Canadian Certified Pedorthist. Your Pedorthist will conduct a full assessment of your feet and lower limbs and will evaluate how you run and walk. Based on this assessment, your Pedorthist may recommend a foot orthotic to ease the pressure on your Achilles tendon. As Achilles tendinitis can also be caused by wearing old or inappropriate athletic shoes for your sport, your Pedorthist will also look at your shoes and advise you on whether they have appropriate support and cushioning. New shoes that don?t fit properly or provide adequate support can be as damaging as worn out shoes.
Surgical Treatment
Surgical treatment for tendons that fail to respond to conservative treatment can involve several procedures, all of which are designed to irritate the tendon and initiate a chemically mediated healing response. These procedures range from more simple procedures such as percutaneous tenotomy61 to open procedures and removal of tendon pathology. Percutaneous tenotomy resulted in 75% of patients reporting good or excellent results after 18 months. Open surgery for Achilles tendinopathy has shown that the outcomes are better for those tendons without a focal lesion compared with those with a focal area of tendinopathy.62 At 7 months after surgery, 67% had returned to physical activity, 88% from the no-lesion group and 50% from the group with a focal lesion.
Prevention
By properly training the body, an athlete can build the strength of their tendons and muscles. Following a workout and dieting plan, the body will be able to build muscle and strengthen most effectively. Additionally, doing the following can prevent tendinitis. Wearing appropriate shoes will give your foot the support it needs for proper movements of the foot and ankle. Improper movements will put additional stress on your body. Stretching before an athletic activity, Stretching primes the body for a taxing activity. Additionally, this will get your blood flowing and reduce the risk of pulling a muscle. Ask your doctor about orthotics, Custom orthotics can help get your foot into proper alignment. If the foot does not execute proper mechanics, the body will adjust which will cause pain and increase the chances of injury.